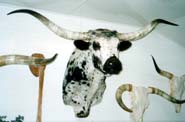 Longhorns Head to Tail is an evolution of items developed as a result of requests for the unique. When you are a Texas Longhorn aficionado it is a normal thing to want Longhorn special decor. Many of these items make handsome gifts for the special Texas Longhorn person. Many are one of a kind items, not ever exactly duplicated.

Example only. Already sold.

BULL CANES: An original walking cane made from breeding bulls. No two are alike. Limited supply. The bulls don't give these up without a fight. They can't be made from cows. Click here for price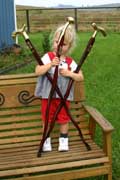 DELUXE BULL CANES: The highest quality cured bull canes are ready for shipment. Some have inlaid Indian Head nickles, arrowheads, and name plates. They are long, rigid and state of the art quality. Each one is different, and all with a very pointed history. Click here for price
CATTLE HIDES: Colorful speckled and spotted. Hair on naturally tanned full size cattle hides. $290 – $375 Plus ups.
*HOOF LAMP: is made from an authentic pure Texas Longhorn steer hoof. Each one has speckled or brindle color pattern & some hooves have stripes. The actual Longhorn lower leg is approximately 12″ tall & the double or single globe fixture with base stands approximately 26″ tall with a snap on & off switch. Each hoof lamp comes without lamp shade for shipping convenience. Some will be available in matching sets. Special orders may include one, two or three hooves on the same lamp. Every Texas Longhorn & western affectionado should have only purebred Texas Longhorn steer hoof lamps in the den or office. No two are exactly the same.
LONGHORN CHAPS: Made of hair-on Longhorn top grain leather. All hides are different and no two have the exact same color pattern. Eight buckle adjustable. Custom sizes add $25. $285 Most of these are custom order, please call for availability. 740 758-5050
POLISHED CATTLE SKULLS: Photos and registration papers are available on some skulls. Although Longhorns Head to Tail specializes in longhorn products, occasionally a Hereford or Old Buffalo skull turns up. (they are usually more economical than Longhorns.) $200 to $1,300
PIZZLE PUTTER: Longhorn Bull Pizzle Putters. Accurate Golf putters from a bull part.
(Not approved by Tiger Woods)
DELUXE PIZZLE PUTTER: Longhorn Bull Pizzle Putters. Accurate Golf putters from a bull part.
SACO DE TORO: These are real leather. They are made from big herd sires. The bulls don't give these up easy. Different sizes, prices. (when available)
*TEXAS LONGHORN TAIL MOUNT: is one of a kind.Very few people have a conversation piece like this beautiful speckled Texas Longhorn steer tail. These are mounted on a stained wood wall plaque andhang the full length. (This is for the person who really wanted to buy a full Longhorn steer mount but couldn't afford it.)They're also for people who have a steer head on one side of the wall & need something to balance it out in the room on the other side. Be the only one inyour county with a genuine, authentic Dickinson Cattle Co. Texas Longhorn steer tail. (when available) call: 740 758-5050
TEXAS LONGHORN TROPHY MOUNTS All of our Texas Longhorn Mounts have our specially designed removable horns for easy hanging and shipping.Mounts used to have to be shipped by truck at great expense, but with the removable horns and a change in the maximum size, UPS now delivers these so we no longer have to ship them freight.

There is a charge of $50 for the custom built wooden shipping crate.

All the steers that we mount are bred, grown, and processed only with beautiful colored faces, wide twisty horns and the most professional workmanship. All of our head mounts are done either by a world renowned taxidermist.

The form used for these mounts was custom developed Dickinson Cattle in the 90's. It is an original artistic form developed from actual skulls and living animals. This quality of form is not available to other "run-of-the-mill" taxidermists that simply use the mounts available to them from general taxidermy supply catalogs.

Occasional, free delivery is available on mounts. Cattle deliveries take our trucks into many different states. If you happen to live near one of our delivery routes, you can meet up with our truck and have your mount delivered for free, with no crating cost.

Specimen exhibition quality mounts are completed every 30-40 days. Mounts are usually sold within a day or two of completion. If you are interested in obtaining one of our high quality Texas Longhorn Mounts, please contact us to add your name to the list. We will send out a notice of completed mounts with photos, measurements and prices as mounts are delivered from the taxidermist.

Here are some examples of previous Mounts

This steer is 72″ Tip-to-Tip with a zillion specks.
Nice spread at 79″ T2T with a wildly speckled face.
This is a very fancy face and mount.  Horns are 70-1/8″
79-1/4″ long tip-to-tip
This is an extremely wide spread at 82 3/4″ tip to tip with a wildly speckled face.
73-3/4″ tip-to-tip. Horns have beautifully matching chocolate tips.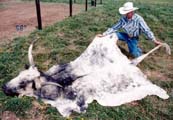 *TEXAS LONGHORN RUG/MOUNT: This is an example of a full size Texas Longhorn mount.. This can be used as a wall hanging or floor rug. Contact us for quote.
Example only – Available by special order.