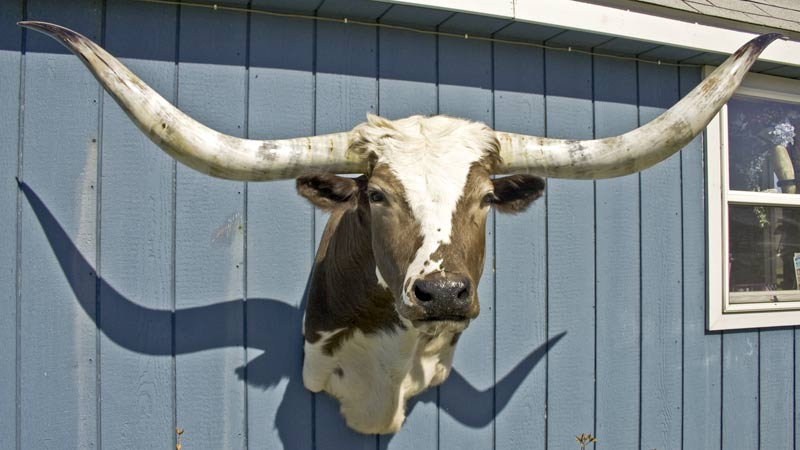 All of our Texas Longhorn Mounts have our specially designed removable horns for easy hanging and shipping.
Mounts used to have to be shiped by truck at great expense, but with the removable horns and a change in the maximum size, UPS now delivers for us at a cost of about $125 depending on location.
There is a charge of $40 for the custom built wooden shipping crate.
All the steers that we mount are bred, grown, and processed only with beautiful colored faces, wide twisty horns and the most professional workmanship.
The form used for this mount was custom developed by H.C Vick and is an original artistic form developed from actual skulls and living animals. H.C. Vick is a world renowned taxidermist with hundreds of live action mounts in museums all across the USA and Girraffe and Elephant mounts at Bass Pro shop in Springfield, MO. This quality of form is not available to other "run-of-the-mill" taxidermists that simply use the mounts available to them from general taxidermy supply catalogs.
Occasionally, free delivery is available on mounts. Cattle deliveries take our trucks into many different states. If you happen to live near one of our delivery routes, you can meet up with our truck and have your mount delivered for free, with no crating cost.
Specimen exhibition quality mounts are completed every 30-40 days. Mounts are usually sold within a day or two of completion. If you are interested in obtaining one of our high quality Texas Longhorn Mounts, please contact us to add your name to the list. We will send out a notice of completed mounts with photos, measurements and prices as mounts are delivered from the taxidermist.