Beef Shipped to Your Door Nationwide ~~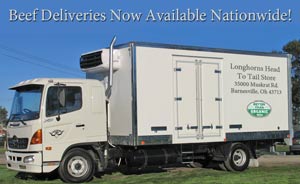 LHT Store has Bulk Texas Longhorn Beef by the whole, side or quarter. It can be purchased at the store, or shipped nation wide.
Each LHT product is fast frozen and carefully vacu-packed for freshness, longevity and safety.
All the steaks, roasts, and prime cuts, with the grind, are available in BTO grain fed Longhorn beef. It is a 90% grass fed, 100 day grain fed product to create the tender eating experience desired by serious beef lovers.
All LHT beef (Our Goal) products are the historic Texas Longhorn breed, unquestioned for health, protein and old fashioned flavor. As the nation turns to a minimal grain meat production system, the Longhorn will be the hero. Secret ~~the magic is to turn cactus, browse, weeds, brush, briars and thorns into a steak. Reward the excellence!
* * * * * * * *
Delivery: Any location in the nation for 500 lbs or less $427. 1000 lbs or less $572.
BTO Ground Beef (1 lb vacu-packs) $5.70 per lb. 50 lb box lots.
BTO Beef vacu-wrap packs, hanging weight per lb. – Half beef $4.10. Quarter beef $4.20.