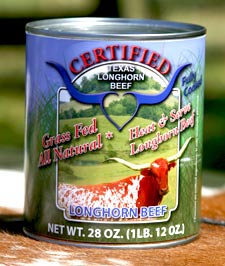 From deep in the Appalachian Foot Hills of Ohio, part of the Midwest known for quality beef, comes now—-hear the sounds of thundering Longhorn hooves—-a new product of Longhorns Head to Tail, LLC.
Before electric freezers there was canned beef.  It is here again and for a lot of good reasons.
New Certified Texas Longhorn Beef (CTLB) is carefully slow cooked, totally grass fed, free range raised, all natural, and for convenience, comes ready to heat and serve in minutes.  (
Click for full label
)
Most canned meat is a product of Brazil or China.  CTLB is home grown in the good old USA.  The ingredients do not include califragiilistic expealodocious or monosodium glutamate, but due to a total grass fed product, it does contain wonderful omega-3, vitamin E, and CLA along with many other great and wonderful natural health treasures.
Each large 28 oz. can contains simply, beef & salt.  Very slow cooked, the juices are totally retained for a wonderful broth.  It is boneless and has a minimum 5 year shelf life without refrigeration.  Perfect for emergency provision, even if the electricity goes off.  Great for stews or soups—just add your favorite vegetables and heat.  Make "sloppy joes" or add barbecue for a tail gate grub of excellence. Enjoy just like fresh roast beef, yet without the preparation time.
Heat and Serve prices….

28 oz can
Case of 12
Beef
$15.75
$185
Turkey
$13.00
$120.00
Pork
$13.00
$120.00
Triple pack 4 each
$130.00
This price is less than most uncooked roast beef.  One can or a pickup load can be purchased at the LHT Store.
For Ordering Click here
https://head2tail.com/product-category/meat/
Note on BPA: Click here
Place orders with the LTH store info@head2tail.com.  Check the site for recipes at www.head2tail.com.  Store phone 740 758 5050. Location — 35000 Muskrat, Barnesville, Ohio 43713.